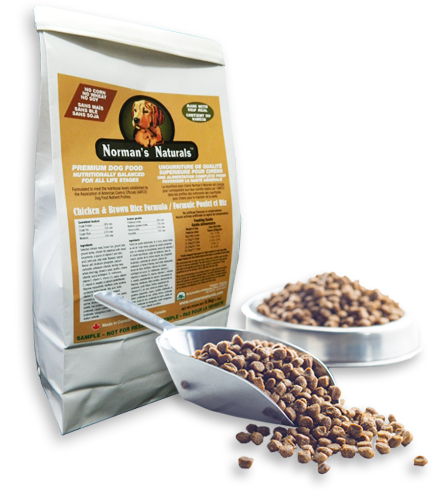 Norman's Naturals Premium Dog Food
Why is it So Good?

Chicken Meal and Brown Rice Formula for the dog you love.
No Corn, No Wheat, No Soy.
Nutritionally balanced for
all life stages. Contains
kelp meal. A rich source of
trace minerals
No artificial preservatives
or flavours
Promotes optimal
digestion for healthy
immune system
Made locally
in Ontario
Due to precautions around COVID-19, sample bags are not available at this time.
We have ensured that our dog food contains no corn, not only because many dogs find this difficult to digest, but also because most of the corn in pet food is Genetically Modified. Norman's Naturals uses natural preservatives, like rosemary extract and no artificial flavours or colours. All of our products are of the highest quality and are made right here in Canada.
Many of our customers have seen positive changes since starting our food – reduced skin problems, shinier coats and more energy are just some of the comments we have received from customers. Try Norman's Naturals products and we're sure you won't be disappointed...
Contact Us Today with any questions.
Fill out the form below and we will return your query within 3-5 business days.